Ilaria Del Carretto
Valle del Serchio. Più vicino a te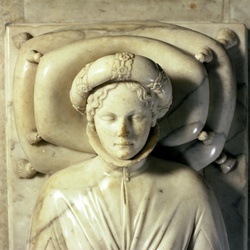 Born in 1379 in Zuccarello, Ilaria was the daughter of Carlo del Carretto, Marquis of Savona and Lord of Finale. Following the death from plague of his very young bride Maria Caterina degli Antelminelli, Paolo Guinigi sought another wife, both to be sure of an heir and to reinforce his policy of diplomatic alliances. 
The choice of the daughter of the Marquess of Savona appeared to be the best, given the long alliance between the family of the Del Carretto and Duke Visconti of Milan. For more than a hundred years, the city of Lucca engaged in trade with Savona, exporting the precious silks and valuable materials to the Ligurian riviera. 
At the end of 1402, as soon as he received the affirmative reply from the Marquis Del Carretto, Paolo ordered preparations for the wedding and, in 1404, Paolo Guinigi's had an heir, the first-born Ladislao, whose arrival was celebrated by the whole city with numerous bonfires.
At the end of 1405, at twenty six, Ilaria gave birth a second time to a baby given the name of Ilaria Minor. As a result of complications during the birth, certainly due to the weakening of the frail body of Ilaria while undergoing two pregnancies very close together, on 8 December 1405, the young Marquess of Savona died with terrible cries of unbearable pain.
Ilaria's sarcophagus, one of the most valuable works by the Sienese sculptor Jacopo della Quercia, is made from white Carrara marble and depicts the sweet young woman sleeping, near life size. Her hair is gathered in a braid embellished with a decorated headdress and the head is resting on two slightly sunken pillows, as if giving way under the weight of her head. At the foot, crouching, is a depiction of the Marquess' little dog, a symbol of conjugal loyalty, a popular subject between the fifteenth and sixteenth centuries.
Leon Battista Alberti, in fact, in one of his most famous works, Della Famiglia, written in 1430, declared that a woman is honest when she is "sweet and clean not only in dress but in every word and deed". The little dog placed to guard the young woman was, therefore, a symbol of the loyalty and honour for which Ilaria del Carretto was so beloved of the people of Lucca.
 Notwithstanding the romantic symbolism, which still today attracts tourists and the faithful, the body of Ilaria was never placed in the sarcophagus but buried inside the Guinigi Chapel in the architectural complex of the Convento di San Francesco in Lucca. Recent studies by the Paleopathology department of Pisa University indicate that the remains of some female tombs have been found inside the Cappella di Santa Lucia during restoration works on the complex, which could belong to the young wife of Paola Guinigi.