Where to sleep
i nostri suggerimenti
Antico Albergo Terme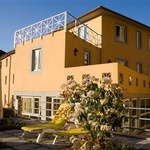 Amid the quiet, ancient village of Bagni Caldi, the Antico Albergo Terme is situated in an enchanting spot, at the highest part of the town, surrounded by forests of pinewood and chestnut, bramble bush and beech trees. Restored with attention to the historic and environmental surrounds, the peacefully elegant hotel offers the ideal break to re-gather your energy and relax.
Well-furnished, discrete, elegant and equipped with every comfort, the rooms at the Antico Albergo Terme, some of which are Superior suites, face the suggestive and enchanting Tuscan landscape, providing guests with an utterly tranquil and relaxing time out.
Fed by the waters that rise from the "Doccione", the indoor thermal pool is easily reached from the center of the hotel by a clever and discrete architectural artifice, making the pool a key element of wellbeing during your stay.
Info e Contatti
Via del Paretaio, 1 - Bagni Caldi - Bagni di Lucca Ponte - Bagni di Lucca (LU)