Life in the castle: The water supply
Valle del Serchio. Più vicino a te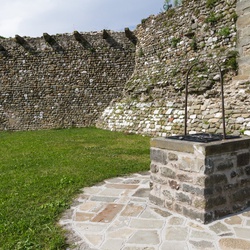 Whether isolated towers, imposing fortresses or great castles furnished with turrets and parapets, the most precious asset to be defended was always water, the element that is indispensable for life.
The position of the strongholds in the heights rarely allowed groundwater or natural springs to be used and it was most often necessary to find a way of collecting rainwater and storing it so that it could be used by castle-dwellers, soldiers and villagers. Through a system of stackable terracotta ducts, the water from the roofs of the houses, sloping towers and buildings, could be collected by letting it run underground, inside cisterns usually covered with barrel vaults and with a hole at the top from which it was possible to collect the precious liquid.
Inside these constructions, water could be kept fresh and purified of dirt, forming a clear water reservoir. The castle towers also preserved a supplementary water reserve for the specific use of the castle, vital in cases of siege or rebellion.
To improve the quality of the water, fragments of ceramic furniture were thrown into wells and cisterns to create a bed of "crockery" on the bottom, below which impurities would settle that the flow of water inside the ducts inevitable carried into the cistern. In this way, the receptacle used to collect water would not disturb the silt on the bottom, leaving the water clear.
Illustrative examples of this can be found in the two castles of La Cune and Mount Bargiglio. In the first, due to a substantial population centre, which included at least twenty houses, the large stone cistern, positioned near the church and at the foot of the bell tower, would need to contain enough water required to sustain the villagers in the event of necessity. To tackle emergencies caused by any siege, the town was furnished with this huge, rectangular underground cistern, with a stone floor, barrel vault and a shaft at the top through which men and women could freely draw the amount of liquid required to sustain them.
In the nearby stronghold of Bargiglio, the situation was very different. Only the lord of the manor with his trusted soldiers lived inside, therefore the need to provide water was more limited and was assured by the small cistern built at the base of the castle tower.